Malus Mystic: our latest tongue twister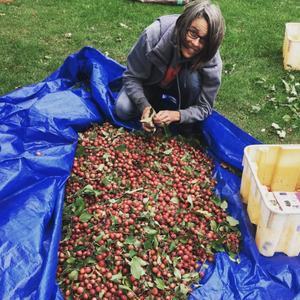 Malus: apple trees found throughout temperate zones of the northern hemisphere
Mystic: of obscure or mysterious character or significance
Introducing our newest, (very) small batch cider!
Last August two love birds (cough Val and Brent cough)  went on an apple picking date at our neighbour's Water Buffalo Farm (Majestic Water Buffalo) a few lines over.  And between the cute apple picking photos and I'm sure whispered sweet nothings, the most tart little apples you ever did taste were gleaned and brought back to the ciderhouse!  We pressed 60L of the most tannic, beautifully coloured red and white fleshed crabapples that I've had the chance to work with – and then those carboys sat for 8 months because I didn't know what the heck to do with them!  Until recently…
Malus Mystic is a blend of spontaneously fermented local red and white flesh crabapples combined with our modern cider base.  Cloves were steeped for 15 hours to enhance the tannins of the crabapples and a hint of our maple syrup was added to round out the taste.  This cider is not like anything we've ever done and it leaves it's signature with a puckering finish. Only 8 cases of the stuff has been bottled, but this newest cider hints to other creations that are happening in the background of the flagships you've come to know and love.  
Available only at our tasting room, Malus Mystic will be available starting April 6th in 500ml bottles while supplies last.
---
---
Leave a comment
Comments will be approved before showing up.